Special issue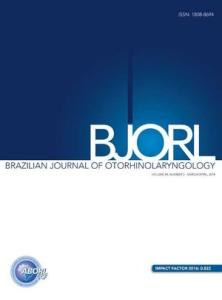 This article is part of special issue:
Vol. 88. Issue S2
More info
Full Text
Objective: To radiologically determine the anatomical variations of the upper region of the uncinate process.
Methods: This is a cross-sectional study in which the research subjects are skulls. Computed tomography (CT) of the paranasal sinus of each skull were obtained. And, after that, the different sites of anatomical correlation of the upper region of the bilaterally uncinated process from anterior to posterior were analyzed in the coronal plane.
Results: When analyzing computed tomography, the PU presented fixations on the papyracea lamina, middle turbinate, skull base and interfrontal septum. It was observed that the orbit was the place where the upper fixation was most common. When analyzing the number of fixations on each side, the skulls presented from a single fixation to five simultaneous fixations on the same side.
Discussion: PU is the most important and constant milestone in the osteomeatal complex of the middle meatus, which is the key area for functional endoscopic surgery of the paranasal sinus. And among the bone structures that delimit the recess of the frontal sinus, the upper fixation of the PU is the most important. The classification of the upper PU fixation originally suggested by Stammberger and Hawke, who evaluated TCs with thick cuts, described 3 possible upper fixations, considering that pu is included in a single point. The uncinate process is part of the ethmoid bone and, therefore, there is no insertion in the ethmoid bone, but rather variation of anatomical presentation and its relationships with other structures of the ethmoid itself. Thus, pu can be related to the papyaceal lamina, middle turbinat and anterior skull base, in addition to others already described.
Conclusion: The uncinated process is part of the ethmoid bone and there are multiple variations of the anatomy of its upper region in the ethmoid bone itself and, therefore, there is no applicability in classifying them.
Keywords: Paranasal sinuses; Uncinate process; Anatomy; Radiology; Sinsitis.