Special issue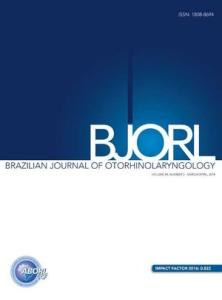 This article is part of special issue:
Vol. 88. Issue S2
More info
Full Text
Objectives: To assess whether facial taping is effective in reducing edema and ecchymosis in the postoperative period of primary rhinoplasty and how satisfied patients are with the use of this material.
Methods: This study was approved by the Institution's Human Research Ethics Committee through authorization no. 47968721.1.0000.5529. Prospective, longitudinal, interventional and analytical study in which patients undergoing primary rhinoplasty were divided into three groups. Group 1: control group, in which a routine dressing was performed; Group 2: routine dressing was performed and taping was applied at 10% tension; and Group 3: routine dressing was performed and taping was applied at 75% tension. Patients were photographed, answered the Rhinoplasty Outcome Evaluation (ROE) and Nasal Obstruction Symptom Evalution (NOSE) questionnaires, and underwent facial ultrasound preoperatively and in the first week after surgery. Facial image capture was performed with a thermographic camera one week after surgery. After 30 days, all patients completed the ROE and NOSE questionnaires again.
Results: 14 female patients were recruited, aged between 18 and 40 years, 3 from Group 1 (Control), 6 from Group 2 (taping at 10% tension) and 5 from Group 3 (taping at 75% tension). Due to the small number of cases, statistical tests of comparison and correlation between the groups were not applied. Only one patient developed a cutaneous hypersensitivity reaction, requiring the removal of the taping on the fourth day, but this was maintained in our study. All patients had higher ROE scores after the first week, as well as worsening of the obstruction, which was more significant in Group 1. Patients in Groups 2 and 3 had a lower temperature in the regions evaluated by thermography in the postoperative period in compared to the control group. All patients who used taping believe that this material helped to contain the edema and the formation of ecchymosis. As for satisfaction with nasal aesthetics, through the ROE questionnaire, there was an improvement in all groups, being even more expressive at the end of the first month, as the results showed. The increase in satisfaction with nasal aesthetics was a little less expressive in Group 2.
Discussion: The performance of rhinoplasty has changed significantly over the years and advances in surgical techniques have been possible, mainly, due to a better understanding of the anatomical structures and studies of great surgeons. As with any surgical procedure, there are risks of related complications. Among them, ecchymosis and edema which, because they are expected, are not necessarily described as complications. Although temporary and expected, these changes generate anxiety for the patient, even though the surgeon has advised on the favorable evolution during the first two postoperative weeks.
Conclusion: Taping is a practical, inexpensive and easy way to help in the rhinoplasty recovery process. This material may have a satisfactory result in the reduction of periorbital edema and ecchymosis in the postoperative period of primary rhinoplasty, in addition to contributing to less postoperative nasal obstruction when applied with a tension of 10%, bringing comfort and satisfaction to the patient. Further studies are needed to prove its benefits according to objective parameters through statistically significant data.
Keywords: Taping; Rhinoplasty; Post-operative; Edema.