Special issue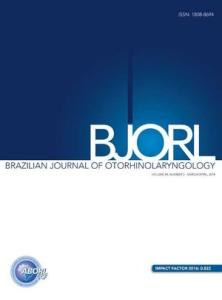 This article is part of special issue:
Vol. 88. Issue S2
More info
Full Text
Objectives: To evaluate the vestibular function of patients victims of traumatic brain injury (TBI) and temporal bone fracture by means of the video head impulse test (vHIT).
Methods: Observational cross-sectional study. Patients with temporal bone fracture treated at a tertiary hospital referred to trauma were included. Patients with previous diagnosis of vestibular disease and using vestibular suppressive medication were excluded. The presence of vestibular and auditory signs and symptoms at the bedside was verified. Around the 30th day after the trauma, the patients underwent the vHIT examination. The presence of an association between alteration in vHIT and type of fracture, optic capsule involvement and vertigo symptom were analyzed by Fisher's exact test. Values of p<0.05 indicated statistical significance.
Results: Twenty-two patients, all male, with a mean age of 42.1 years were included. The most prevalent mechanism of trauma was bicycle fall (41.7%). In 66.7% of the cases the fracture was on the right. Regarding the type of fracture, 83.3% were longitudinal, 8.3% transverse and 8.3% mixed. There were only 1 case (8.3%) of optic capsule involvement in the fracture. Only 6 (50%) were submitted to vHIT. The patient with fracture involving the optic capsule presented labyrinthine hypofunction in the anterior, lateral and posterior ipsilateral canal to the fracture. The analysis of the presence of association between alterations in the vHIT exam with the presence of vertigo, type of fracture and involvement of optical capsule showed no statistical significance (p>0.04). Only 1 underwent the audiological examination, presenting moderate mixed hearing loss.
Conclusion: Vestibular evaluation through vHIT has been increasingly used. It is noteable that although they are preliminary results, the present study shows originality when investigating the theme through vHIT in patients with temporal bone fracture.
Keywords: Craniocerebral traumas; Head impulse test; Cranial fractures; Dizziness.