Special issue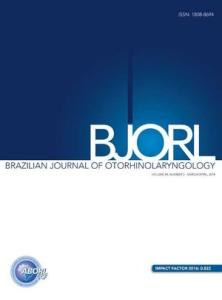 This article is part of special issue:
Vol. 88. Issue S2
More info
Full Text
Objectives: To prospectively and randomly assess the number of Epley maneuvers necessary for the treatment of patients with posterior canal BPPV (ductolithiasis).
Methods: Fifty-nine patients were collected in the Otorhinolaryngology Department of the Tertiary Hospital of São Paulo and randomized in advance into 4 groups: Group A, B, C, D in which 1, 2, 3 and 4 maneuvers were performed per session, respectively. After each maneuver, the presence of dizziness was questioned and the presence of nystagmus was analyzed; in weekly return, only considered complete improvement when the patient did not complain of dizziness or nystagmus to the Dix Hallpike maneuver.
Results: After statistical analysis, a homogeneous group was observed in gender, age and affected laterality. Nineteen of the 32 patients showed complete improvement in dizziness and nystagmus at the end of the maneuvers at the first contact, and of these, 18 (94.34%) patients showed complete improvement of BPPV at the first return (p=0.051). Of the patients who underwent 01 maneuver per session, 81.8% presented complete improvement in the first return; of those who performed 01 maneuver, 63.6% showed complete improvement; of those who performed 03 maneuvers, 100% improved completely on the first return and among those who performed 04 maneuvers per session, 90.9% showed improvement in dizziness and nystagmus at the first return (p>0.05).
Discussion: Dizziness and instability are prevalent pathologies (21% of the population) and represent 10.8% of the complaints of patients seeking care in otorhinolaryngology emergency rooms. Among the causes of dizziness, BPPV is the most common cause of 3 vertigo (present in 1.6–5% of the general population). Studies are important to reach a consensus on the best bpPV treatment.
Conclusion: The higher cure rate is not related to a higher number of Epleys maneuvers performed per session. Patients who performed maneuvers until dizziness and nystagmus ceased to show a high rate of complete improvement in return.
Keywords: Benign paroxysmal positional vertigo; Dizziness; Semicircular channels; Vestibular diseases; Vertigo; Treatment intention analysis; Treatment plan.