Special issue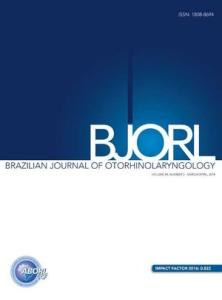 This article is part of special issue:
Vol. 88. Issue S2
More info
Full Text
Objective: To determine the prevalence of laryngeal lesions in the examination of videolaryngostroscopyin scans in singers and actresses using intradermal hormonal implants.
Design: Retrospective study of professional singers and actresses who used intradermal hormonal implants and consulted at an otorhinolaryngology outpatient clinic for vocal evaluation.
Methods: Review of medical records of professional singers or actresses who consulted at the Otorhinolaryngology outpatient clinic of HUPE between 2017 and 2019. The fundamental frequency was measured in all patients and compared with historical norms, and the prevalence and character of laryngeal alterations identified in videostroroboscopy were independently evaluated by 2 laryngologists and described.
Results: Ten actresses and singers who used intradermal hormonal implants were identified. All patients had evidence of Reinke's edema and all had high RSI scores suggestive of possible reflux. Seven patients had vocal fold lesions (5 cysts, 1 vocal nodule and one pseudocyst), The mean fundamental frequency was below the published norms (188Hz compared to 212Hz), but these differences were not statistically significant and may be due to vocal fold lesions, reflux or Reinke's edema.
Conclusion: A specific impact of hormonal implant chips on fundamental frequency or vocal pathology could not be identified in this study. The findings, however, that all patients presented Reinke's edema and other vocal lesions may suggest that there is a relationship between these implants and vocal pathology.
Keywords: Voice; Professional voice; Larynx; Voice quality.