Abstract
Introduction
Patients who undergo endoscopic cerebrospinal fluid rhinorrhea repair may occasionally present with coexistent sinonasal pathology which may or may not need to be addressed prior to surgical repair. Some patients may develop new onset nasal morbidity related to endoscopic repair.
Objective
To study the prevalence and management of additional sinonasal pathology in patients who undergo endoscopic repair of cerebrospinal fluid rhinorrhea
Methods
A retrospective review of patients who underwent endoscopic cerebrospinal fluid leak repair was conducted to note the presence of coexistent sinonasal morbidity preoperatively and in the followup period.
Results
Of a total of 153 patients who underwent endoscopic closure of cerebrospinal fluid leak, 97 (63.4%) were female and 56 (36.6%) males. Most patients (90.2%) were aged between 21 and 60 years, with a mean of 40.8 years. Sixty-four patients (41.8%) were found to have coexistent sinonasal morbidity preoperatively, the commonest being symptomatic deviated nasal septum (17.6%), chronic rhinosinusitis without polyps (11.1%) and chronic rhinosinusitis with polyps (3.3%). Rare instances of septal hemangioma (0.7%) and inverting papilloma (0.7%) were also seen. Postoperatively, there was cessation of cerebrospinal fluid rhinorrhea in 96.7% which rose to 100% after revision surgery in those with recurrence. Resolution of coexistent sinonasal pathology occurred in all patients with followup ranging from 10 to 192 months. New onset sinonasal morbidity which developed postoperatively included synechiae between middle turbinate and lateral nasal wall (5.9%) and sinonasal polyposis (1.3%).
Conclusion
Patients who undergo endoscopic cerebrospinal fluid leak repair may have coexistent sinonasal pathology which needs to be addressed prior to or along with repair of the dural defect. New onset sinonasal morbidity, which may arise in a few patients postoperatively, may require additional treatment. A protocol for the management of coexistent sinonasal conditions ensures a successful outcome.
Keywords:
Endoscopic CSF rhinorrhea repair
Deviated nasal septum
Rhinosinusitis
Full Text
Introduction
Transnasal endoscopic surgical repair of cerebrospinal fluid (CSF) leaks has become the standard of care for patients with CSF rhinorrhea with success rates of >90% being reported by many authors.1–3 Compared to transcranial techniques of repair, endoscopic techniques appear to offer higher success rates and lower overall morbidity.4 Most authors focus on the outcome with respect to cessation of CSF rhinorrhea with less attention paid to other perioperative morbidity. Postoperative complications from endoscopic repair of CSF leak using mucosa- sparing techniques are generally considered to be infrequent and minor, although some authors have reported rare complications like orbital ecchymosis5 and intraparenchymal brain hematoma.6
There are sparse reports of significant sinonasal morbidity in patients who have successfully undergone endoscopic CSF leak repair for non-traumatic or traumatic CSF fistulae without extensive resection of normal nasal mucosa or the use of a nasoseptal flap. Clinical assessment and rigid nasal endoscopy in the pre- and postoperative period have yielded evidence of nasal morbidity in some reports.1–3,5–7 An audit of patients diagnosed with CSF rhinorrhea from the National Inpatient Database of USA collated between 2002 and 2010 showed a 10.4% incidence of chronic rhinosinusitis in these patients.8 Patients who underwent elective surgery for CSF leak repair had a higher likelihood of having chronic rhinosinusitis (12.3%) than those who did not (8.2%). In another report,1 10% of patients with spontaneous CSF rhinorrhea and 27% of patients with traumatic CSF rhinorrhea had sinonasal polyposis. Details of management of these coincident sinonasal problems were not provided in either of these reports.
The majority of reports on nasal morbidity following endoscopic CSF leak repair concern series of patients who had dural defects following endoscopic excision of skull base tumours.9–13 In these patients the surgery for the primary pathology and the repair of the dural defect is associated with resection of large amounts of normal nasal mucosa and use of a nasoseptal flap or other mode of repair. Nasal crusting, discharge, hyposmia/ anosmia, headache, palatal/dental hypoesthesia and hyponasal speech are some of the reported nasal morbidity following such procedures.9–13
The presence of preoperative sinonasal pathology and its management in patients with non-traumatic or traumatic CSF leaks as well as their resolution or persistence in the postoperative period has not received much attention. The present study aimed to investigate the prevalence and types of coincident preoperative sinonasal morbidity as well as the development of postoperative sinonasal problems in those patients who underwent endoscopic CSF leak repair using a mucosa-sparing, multilayer closure technique. We also aimed to recommend a protocol to ensure successful management of the dual problems in these patients.
Methods
Patients
We retrospectively analyzed data from a cohort of 153 patients seen at our tertiary care center who underwent endoscopic CSF leak repair by a single surgeon between 2005 and 2018, using a mucosa- sparing technique. Data regarding patients with any evidence of coexistent sinonasal morbidity in addition to CSF rhinorrhea was extracted and details regarding demography, presence of preoperative comorbidities, history of prior trauma and surgery and features of preoperative nasal morbidity were noted. Details of radiological evaluation with CT and MRI scanning for all patients for the site of defect as well as postoperative scans for any patient who developed a nasal complaint postoperatively were also noted.
Perioperative nasal morbidity
Besides clear rhinorrhea, the presence of additional nasal symptoms like mucoid/purulent nasal discharge, nasal congestion/stuffiness or complete obstruction, postnasal drip, epistaxis, crusting, sneezing, parosmia, hyposmia with/without facial pain or headache were enquired into both preoperatively and at each postoperative visit. Endoscopic evidence of abnormalities in the nose like edema, pale mucosa, crusting, purulent nasal discharge, inflamed mucosa, grossly deviated nasal septum, polyps, nasal mass or synechiae were also noted. Skin allergy test was performed in those with suspected nasal allergy.
Repair of the dural fistula
All patients had a mucosa-sparing, multilayer technique of closure of the site of leak after careful localisation of the defect. In patients with defects <4mm, an onlay, multilayer closure with fat and fascia was performed after cauterisation of the meningocele and freshening the area surrounding the defect. In patients with >4mm defects a bath-plug technique using a fat graft was employed after excision of the meningocele or meningoencephalocele. In very large defects, a three-layer underlay and overlay technique using fat and fascia was used.
Patients with medial lamella cribriform plate defects typically underwent no sinus surgery and the defect was closed in the manner described above. Patients with lateral lamella cribriform plate defects or those with fovea defects underwent ipsilateral middle meatal antrostomy, anterior and posterior ethmoidectomy and frontal sinusotomy additionally before closure of the dural defect. Patients with sphenoid sinus lateral recess fistulae underwent transpterygoid repair of the defect. Patients with sphenoid sinus roof fistulae underwent transseptal sphenoidotomy and closure of the defect.
Image guidance for localisation of the leak was only required for patients with lateral recess of sphenoid sinus defects who underwent transpterygoid repair.
Management of preoperative coexistent sinonasal morbidity
A standard protocol was followed to manage patients with preoperatively- diagnosed nasal comorbidity, based on preoperative diagnostic rigid nasal endoscopy and CT scan findings. Broadly, patients with obstructive nasal pathology were treated surgically either in a staged fashion (for mass lesions) or along with endoscopic closure of the defect (for deviated nasal septum). We chose a staged procedure primarily to reduce the coincident bleeding that would occur during removal of the mass lesion which could obscure a good view of the underlying dural defect and prevent sound repair. In patients with non-obstructive nasal morbidity like allergic rhinitis and rhinosinusitis, a course of medical therapy was administered preoperatively to optimise the nasal and sinus mucosa for dural defect closure. Patients with symptomatic septal perforation were offered surgery at a second stage at a later date.
Follow-up
All patients were encouraged to report for the first postoperative followup after 3–6 months and then annually to note if they had recurrent CSF rhinorrhea and development of any new nasal symptoms. All patients underwent rigid nasal endoscopy at each followup to look for the presence of synechiae or any other new finding.
IRB approval
We obtained approval from the Institutional Review Board and Ethics Committee, Christian Medical College, Vellore, for the performance of the study (IRB number 11274).
Results
Demography
Of a total of 153 patients who underwent endoscopic closure of CSF leak, 97 (63.4%) were female and 56 (36.6%) male. Most patients (90.2%) were aged between 21 and 60 years with a mean of 40.8 years (range=1–66 years).
CSF rhinorrhea
All except two patients had a history of CSF rhinorrhea. These two patients had a history of recurrent meningitis and diagnosis was supported by radiological and intraoperative findings. The duration of rhinorrhea ranged from 1 week to 240 months (mean 20.6 months) but was <12 months in the majority (71.9%). Only 15 patients (9.8%) had symptoms lasting >5 years. At the time of presentation, an active leak was present in 129 patients (84.3%). A total of 120 patients (78.4%) had a single defect while 33 patients (21.6%) had multiple defects. Left sided leaks were slightly more common (50.3%) than right – sided leaks (49%). One patient had bilateral cribriform plate leaks connecting across the midline. Most patients had cribriform plate leak (58.2%) (Fig. 1A) (Table 1). The next most common sites of defect were lateral lamella (28.1%), roof of ethmoid (20.3%) and lateral recess of sphenoid (9.8%) (Fig. 1B).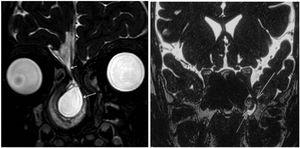 Figure 1.
(A) T2W DRIVE MR image (coronal cut) showing a right sided cribriform plate defect (small arrow) and large meningocele (large arrow). (B) T2W DRIVE MR image (coronal cut) showing a defect in the roof of lateral recess of the left sphenoid with a meningoencephalocele protruding through it (arrows).
(0.09MB).
Table 1.
Sites of skull base defect in cohort (n=153).
Sites of skull base defect 
Number of patients (%)

a

 
Cribriform plate 
89 (58.2) 
Lateral lamella 
43 (28.1) 
Roof of ethmoid 
31 (20.3) 
Sphenoid sinus lateral wall 
15 (9.8) 
Sphenoid sinus roof 
10 (6.5) 
Frontal sinus posterior wall 
3 (1.9) 
A past history of meningitis was obtained in 43 (28.2%) patients, with three patients having had five episodes of meningitis before presenting for surgery. While most (70.6%) patients had non-traumatic leaks, a history of prior trauma was obtained in 45 (29.4%) patients. Road traffic accidents (73.3%) were the most common etiology for traumatic leaks. Iatrogenic trauma following functional endoscopic sinus surgery (FESS) was the cause in 3 (6.7%) patients. Blunt trauma from falling down or hitting the head against an object was the cause in the remainder (20%).
Comorbidities
A little over half of the patients (54.4%) had at least one comorbidity. These included hypertension (28.6%), diabetes mellitus (23.5%), hypothyroidism (10.5%), bronchial asthma (9.8%) and seizure disorder (3.9%).
Preoperative coexistent nasal pathology (Table 2)
Symptomatology and diagnostic rigid nasal endoscopy showed 64 nasal conditions that were coincidentally present in 59 patients (Table 2). A symptomatic deviated nasal septum which also hindered access to the defect site was the commonest (17.6%) abnormality encountered. Chronic rhinosinusitis without polyposis (CRSsNP) was present in 17 (11.1%) of patients. Of these, five patients required staged FESS followed by CSF leak repair in a staged manner. Five of the patients with CRSsNP had associated sinonasal allergy which responded to antihistaminics, steroid nasal sprays and saline drops. In the remaining 7 patients who had minimal chronic sinusitis with no evidence of purulence, we proceeded with repair, simultaneously giving oral anthistamines and nasal drops perioperatively.
Table 2.
Profile of coexistent sinonasal pathology.
| Coexistent sinonasal pathology  | Number (%)  |
| --- | --- |
| Deviated nasal septum (symptomatic/impeding access)  | 27 (17.6)  |
| Chronic rhinosinusitis without polyposis  | 17 (11.1)  |
| Chronic rhinosinusitis with polyposis  | 5 (3.3)  |
| Allergic rhintis  | 5 (3.3)  |
| Septal perforation  | 3 (1.9)  |
| Rhinitis sicca with crusting  | 2 (1.3)  |
| Acute rhinosinusitis  | 2 (1.3)  |
| Septal hemangioma  | 1 (0.7)  |
| Fungal ball left concha bullosa  | 1 (0.7)  |
| Inverting papilloma  | 1 (0.7)  |
Five patients (3.3%) had bilateral chronic rhinosinusitis with polyposis (CRSwNP). Other mass lesions seen included septal hemangioma, fungus ball and inverted papilloma of the left sphenoethmoidal recess. All these patients underwent staged endoscopic excision of the mass lesions and dural defect repair.
Duration of follow up
The follow-up ranged from 10 to 192 months (mean=20.3 months).
New onset postoperative clinical and endoscopic findings (Table 3)
Synechiae between the middle turbinate and lamina papyracea were seen in 9 (5.9%) patients, but in only two patients were they found to block sinus ostia. Sinonasal polyposis occurred postoperatively in two patients, one with an antro-choanal polyp which developed five years after surgery (Fig. 2A–C) and another patient with a foveal defect (Fig. 3A and B) who developed bilateral grade 2 ethmoidal polyposis (Fig. 4A–C) six months after surgery. Both underwent endoscopic excision of the polyps and have been disease free at last follow-up. Three patients who developed allergic symptoms of sneezing, nasal stuffiness and mucoid nasal discharge postoperatively underwent evaluation for nasal allergy and were prescribed steroid nasal sprays and saline sprays.
Discussion
Preoperative sinonasal morbidity
Very few authors have reported on the presence of coincident preoperative sinonasal pathology in patients with CSF rhinorrhea. Banks et al.1 reported a relatively high prevalence of nasal polyposis in their series of 193 patients with 10% of patients with non-traumatic CSF leaks having this nasal comorbidity. The authors did not, however, speculate on the high prevalence of polyposis in their case series or describe the mode of management. In our series, only one of six patients with sinonasal polyposis had an iatrogenic leak. No attempt had been made to localise the site of leak and close the fistula in the first instance. In contrast, Banks et al.1 noted a 27% prevalence of polyposis in patients with traumatic or iatrogenic leaks.
When there is coexistent sinonasal pathology, the timing of definitive surgery for closure of the dural fistula is important. The experienced surgeon may be able to work out a management strategy to address both problems but clear-cut protocols for the management of these situations are always helpful. Our review of cases with coexistent sinonasal problems which may be of an inflammatory or neoplastic origin suggests that staged surgery is preferrable in these patients. It is important to keep the degree of intraoperative bleeding to the barest minimum to enable accurate localisation of the dural fistula which may, on occasion, be very small. Furthermore, placement of the graft may be vitiated by the presence of intraoperative hemorrhage and the insertion of tight packing to stop this bleeding may potentially displace the graft. Excision of polyps or neoplastic masses (as in the case of a patient with inverting papilloma seen in our series) in a staged manner would help to provide a relatively healthy field for definitive fistula closure at a second sitting.
In patients with inflammatory disease, unless the patient has been administered sufficient medical therapy and, in some cases, had preliminary endoscopic sinus surgery to open the ostia of the infected sinus, localisation of the fistula could also be attendant with profuse bleeding making, repair of the dural defect difficult. Five patients who had chronic purulent rhinosinusitis and five with sinonasal polyposis underwent FESS at a first stage. This approach helps to reduce perioperative nasal morbidity as the sinus ostia are all open and sinuses cleared of infection prior to CSF leak repair. It is our practice to ensure that there is no active infection at the time that a patient undergoes surgery as this goes a long way towards avoiding patient morbidity and, possibly, mortality. In contrast, Hsu et al.14 recently described a series of nine patients, two with meningitis and seven with acute sinusitis, who successfully underwent endoscopic CSF leak repair during these acute infections. None of the nine patients had any significant postoperative morbidity, reportedly. In at least five of the nine patients S. aureus was the organism isolated from sinus cultures. The authors did not, however, detail the number and types of antibiotics used in each of their cases.
Postoperative sinonasal morbidity
Studies that have looked at only those cases that underwent repair of spontaneous or traumatic CSF fistulae without coincident resection of anterior skull base masses, report that nasal complications are minimal after endoscopic repair.1–3,5–7 The most common nasal morbidity in the postoperative period reported include nasal crusting, nasal obstruction, hyposmia and recurrence of leak. In the present study, we additionally found that patients also had nasal morbidity like polyps and synechiae which were diagnosed several months after the surgery, emphasising the need for long term follow-up.
One of the concerns in patients who undergo multilayer closure of skull base defects is the development of synechiae between the middle turbinate and lateral wall of nose which could potentially block the sinus openings causing secondary sinusitis. In our series of 153 patients who underwent endoscopic repair, only 9 (5.9%) patients developed postoperative synechiae between the middle turbinate and lateral wall of nose. Of these, only two patients developed secondary sinusitis in the late followup period which resolved with a course of antibiotics. Two others who also developed polyposis required division of minor synechiae along with polyp excision. We believe that this postoperative complication, which may occasionally occur despite efforts to improve sinus drainage intraoperatively, can be successfully managed in the outpatient clinic in most instances.
Conclusion
Patients undergoing endoscopic CSF leak repair with coexistent sinonasal morbidity should be evaluated and managed with a standard protocol to ensure successful management of the dual problems. Postoperatively, besides the possibility of recurrence of CSF rhinorrhea, patients should also be counseled regarding the chance of development of new onset sinonasal morbidity like nasal allergy, polyps, and sinusitis because of which long term- follow up of these patients is advisable.
Ethical approval
Institutional review board approval was obtained for this research which has been performed in accordance with the ethical standards of the Institutional Review Board, Christian Medical College, Vellore, India.
Conflicts of interest
The authors declare no conflicts of interest.
Peer Review under the responsibility of Associação Brasileira de Otorrinolaringologia e Cirurgia Cérvico-Facial.
Copyright © 2020. Associação Brasileira de Otorrinolaringologia e Cirurgia Cérvico-Facial