Special issue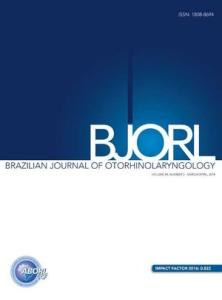 This article is part of special issue:
Vol. 88. Issue S4
More info
Full Text
Introduction
Leiomyosarcoma (LMS) is a mesenchymal malignancy of smooth muscle, which accounts for 1%–4% of head and neck sarcomas.1,2 The involvement of the oral cavity is considered extremely rare.1 Due to the lack of smooth muscle tissue in the oral cavity, it has been suggested that LMS arise from smooth muscle cells of the blood vessel walls, circumvallate papillae of the tongue, neuromuscular bundles, myoepithelial cells or pluripotent undifferentiated mesenchymal cells.1,3,4
Clinically, sarcomas of the oral cavity show nonspecific signs and symptoms and can appear as primary tumors, radiation-associated tumors or metastatic tumors.1,4,5 Biopsy, histological examination and immunohistochemical staining are mandatory to achieve a definitive diagnosis.1,5
The aim of this study was to report a case of maxillary LMS and to perform a review of literature including papers describing LMS of the oral cavity.
Methods
An electronic search in PubMed (National Library of Medicine) was performed including the previous reported cases of primary oral leiomyosarcoma from the year 2000 to March 2021. The terms "oral leiomyosarcoma" (295 results), "leiomyosarcoma tongue" (28 results), "leiomyosarcoma maxilla" (23 results), "leiomyosarcoma mandible" (31 results) and "leiomyosarcoma buccal" (13 results) were used. Cases were considered as "oral" if they primarily arose in mandible, maxillary bone, gingiva, buccal mucosa, lips, palate, tongue, and floor of the mouth. Only the article in English language were included in the final analysis. We excluded the articles which did not report complete immunohistochemical data related to LMS diagnosis. We included only the cases of primary oral LMS which stated, within the abstract or the manuscript, the immunohistochemical positivity for Smooth Muscle Actin (SMA) or at least for two of these markers: muscle specific actin (HHF35), desmin, h-caldesmon.6 When the full-text was not available, we directly contacted the authors.
Case report and literature review
A 67-year-old man presented at the oral medicine department for oral growing-mass, which caused difficult in feeding and speaking. The patient reported the first occurrence of a small swelling on the premaxilla's palatal side approximately three months before, but he did not seek medical care due to the COVID-19 pandemic lockdown. He reported sporadic bleeding episodes and progressive increasing of lesion's dimensions up to our observation. The clinical history was negative for systemic diseases and drug intake.
At the clinical examination, the patient showed impairment in speaking, due to a large painless brownish-reddish mass, which appeared bilobular and firm at palpation. The lesion had a total longitudinal size of 6 cm, it was extended at the buccal side of the premaxilla, covering the hard palate, and incorporating the teeth (Fig. 1). Orthopantomography and CT revealed a wide area of osteolysis of the maxillary and palatal bones, which bilaterally involved the nasal fossa and the right maxillary sinus and caused the dental root resorption (Fig. 2). Putative clinical diagnosis included mesenchymal tumors, Kaposi's Sarcoma, hematologic or bone malignancies.7–9 Multiple incisional biopsies led to the histopathological diagnosis of high-grade leiomyosarcoma. Immunohistochemical profile of the lesion was positive for smooth-muscle-actin and muscle-specific antigen (HHF-35), shows minor-degree expression for desmin and was negative for S-100 protein (Fig. 3). Positron emission tomography showed large enhancing maxillary lesion (SUVmax 15.8), and few areas, putatively inflammatory, localized at the esophagus and mediastinum (SUVmax 2.2) (Fig. 2). Because of the patient's good systemic condition (ECOG Performance Status scale grade 1), two cycles of neo-adjuvant chemotherapy with ifosfamide, doxorubicin and mesna were performed, before surgery, with subsequent reduction of tumour's size. Total maxillectomy (with free resection margins) followed by cervical lymphadenectomy and reconstruction with fibula-free flap was performed (Fig. 4). After surgical resection, the patient received three further cycles of doxorubicin and dacarbazine, as adjuvant chemotherapy. The patient is currently on follow-up and, eight-months after surgery, he does not show clinical or radiological signs of recurrence (Fig. 4).
Table 1 listed the cases found according to this literature review. A total of 73 cases of oral primary LMS have been identified, 42 (57.5%) in women and 31 (42.5%) in men, with a median age of 48 years old. Oral LMS arose in 35 (48%) cases from the soft tissues and in 38 (52%) cases from the hard tissues (Table 2).
Discussion
Leiomyosarcoma is a malignant tumor of smooth muscle derivation which account for 5%–10% of all soft tissue sarcomas.3,10 LMS frequently affects the retro-peritoneal region, the uterus and the gastrointestinal tract.1,11 Oral LMS are extremely rare, accounting for 0.64% of all LMS and for 5.7% of head and neck LMS.5,11 The jawbones appear the most frequently affected oral sites (70% of cases) followed by tongue, buccal mucosa, soft palate, upper lip and floor of the mouth,1,5,11,12 although a recent systematic review, which reported published case of intra-oral LMS up to 2017, found that soft tissues were more frequently involved than bone.3 Oral LMS can occur at any age, commonly in the 5–7th decades, with similar gender incidence rate (M:F, 11:9).3,11 Clinically, it appears as a growing mass, painless and firm, which infiltrate the surrounding tissues with no pathognomonic signs.1,3
Due to its rarity, oral LMS can be misdiagnosed with other common benign lesions before biopsy.11 Moreover, due to overlapping histological features between different types of head and neck sarcomas, this lesion could be also misclassified for other more common spindle cell tumors of the oral cavity.3,5,13 For this reason, histological examination associated with immunohistochemical confirmation is mandatory to obtain a definitive diagnosis of oral LMS.1,3,11,13
Surgical resection with tumour-free margins is widely accepted as the treatment of choice for oral LMS.1,3,5,11 In cases where the anatomical location of tumor does not allow radical surgical intervention, radiotherapy and administration of neoadjuvant/adjuvant chemotherapy may improve survival time and decrease or delay the recurrence rate.1,2,11 However, no standard of care is still available.2
The prognosis for oral LMS is poor, associated with a high rate of recurrence (42% for high-grade LMS within 2 years from surgery) and regional or distant metastasis.1,2,5 Unfavorable clinical course is related to several factors, such as delayed diagnosis, tumor size (larger than 4 cm), histopathological high-grade (poorly-differentiated), site (bone involvement and extension into paranasal sinuses), lymphatic or hematogenous dissemination, positive surgical margins.1–3,5 The estimated 5-years survival rate for primary oral LMS range from 55% to 61%.1,12,14 Periodic follow-up examinations are mandatory for an early diagnosis of any signs of recurrence.1,2,11
In the case presented above, the delayed diagnosis is associated with an increased size of the tumor and a subsequent more aggressive surgical intervention; it is not possible to establish how much the delayed diagnosis could have influenced the prognosis for the patient. However, on our experience during the first months of COVID pandemic, patients were often more scared of contracting COVID-infection in the hospital rather than their neoplastic disease.15
Conclusion
Even if extremely rare, LMS should be considered in the differential diagnosis of oral growing-mass. Early diagnosis and treatment are essential to reduce the risk of recurrence and guarantee better prognosis. Periodic follow-up examinations are mandatory to identify early any signs of recurrence.1,2,11 Due to the rarity of oral LMS further studies are necessary to better characterize this disease.
Institution's ethics committee
Institution's ethics committee approval is not required for the case report.
The study was conducted in compliance with the recognized international standards, including the principles of the Declaration of Helsinki.
Patient's informed consent
Data and samples were collected under patient's informed written consent, guaranteeing anonymity.
Funding
The authors received no specific funding for this work. No funds, grants, or other support were received.
Conflicts of interest
The authors declare no conflicts of interest.
Copyright © 2021. Associação Brasileira de Otorrinolaringologia e Cirurgia Cérvico-Facial