Special issue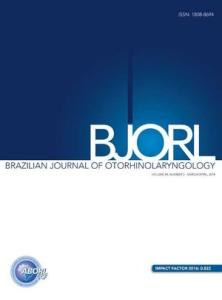 This article is part of special issue:
Vol. 88. Issue S2
More info
Full Text
Objective: This study aims to compare three classifications (Chandler, Mortimore & Wormard, e Velasco e Cruz & Anselmo-Lima), identifying which of them has the best clinical applicability to evaluate orbital complications of acute rhinosinusitis.
Methods: This is a transversal cohort study that evaluated all patients with diagnosis of infectious orbital affection in our hospital. Clinical data and computed tomography scans findings were collected from patients reports. All images were graded according to all three classifications evaluated in the present study and then, patients were divided into four groups: eyelid cellulitis, orbital cellulitis, subperiosteal abscess and orbital abscess. The groups were compared regarding the presence of sinus opacification, history of previous use of antibiotics, the need for hospitalization, and/or surgical treatment, the duration of antibiotics treatment, and the presence of further complication/sequelae.
Results: 143 patients were included; there was no significant difference regarding sex and age. In all groups, the sinuses most frequently involved were the ethmoid and maxillary. The total duration of antibiotics treatment, hospitalization rate and surgery rata were significantly lower in the eyelid cellulitis group compared to the other three. Binary logistic regression showed good prediction (AUC=76.2) for the need for surgery in patients with ethmoid involvement. Older patients are also more likely to undergo surgery (OR 1.023 for each year of age).
Conclusions: Cases of eyelid cellulitis have a low association with symptoms and signs of rhinosinusitis. The division between orbital abscess, subperiosteal abscess and orbital cellulitis is necessary to predict the need for surgical treatment and the rate of further complications/sequelae. Velasco and Cruz & Anselmo-Lima's classification proved to be valid, simple and effective for categorizing cases of orbital complications of acute rhinosinusitis.
Keywords: Complicated acute rhinosinusitis; Orbital abscess; Orbital cellulitis; Orbital complications.