Special issue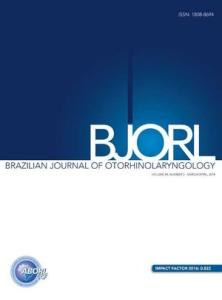 This article is part of special issue:
Vol. 88. Issue S2
More info
Full Text
Objectives: To investigate the prevalence of smell alterations and their associations in patients over 40 years of age at the Hospital das Clínicas of the Medical School of Marília.
Methods: These are preliminary data from some variables of a cross-sectional study, where patients were divided into two groups: one group with patients aged 60 years or older and another with individuals aged 40–59 years. They were submitted to a general questionnaire and upsit olfactory test.
Results: There was a predominance of females. In group I, 18 patients (90%) reported normal smell and in group II 32 (88%) did not report changes in smell. However, the test showed a change of 85% in group I and 66.6% in group II. The prevalence risk ratio (RRP) was 2.83 (95% CI 0.6–18), the prevalence rate was 1.29 and the prevalence in this sample was 73.21%. It was observed that 72.22% of group 2 was not diagnosed at some point since the beginning of the COVID-19 pandemic. Anxiety and/or depression and systemic arterial hypertension were the most prevalent comorbidities in groups 1 and 2, respectively. BMI was elevated in 79.16% in group 1 and 77.77% in group 2.
Discussion: Despite the predominance of females, the literature shows a higher prevalence of males. The prevalence of olfactory deficiency based on self-assessment is lower than based on olfactory assessment through objective tests. Although the prevalence found in available publications is lower than that found so far in this study – 73.21% – it is important to highlight, however, that the prevalence of olfactory deficiency based on olfactory tests varies between studies, possibly due to differences in the population examined and the type of olfactory test. Recent studies have shown that diabetes, hypertension and obesity have a significantly high prevalence in individuals with olfactory dysfunction.
Conclusion: It is necessary to wait for the end of data collection of this research for further information. However, the results found so far are in line with what is evidenced in the international literature. Despite the limitations of the design of this study, but, given the scarcity of knowledge in the national literature and the importance of understanding the prevalence of olfactory deficit and its correlations, this study can bring relevant contributions.
Keywords: Olfaction; Smell disorder; Aging; Smell.