Special issue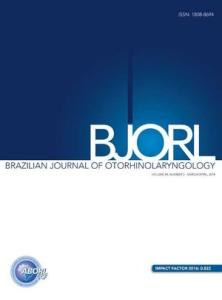 This article is part of special issue:
Vol. 88. Issue S2
More info
Full Text
Amicacine causes irreversible ototoxicity and early detection of this disease is considered a difficult task. Clinical studies of the effects of amicacine in men have revealed that the drug can produce changes that cause tinnitus, hearing loss at high frequencies and behavioral manifestations. The anatomical–physiological equivalence of the peripheral auditory system of humans with mice causes this model of animal to be routinely used in clinical trials, as they contribute to the prevention, diagnosis and treatment of alterations caused by the use of this drug.
Objective: This study aimed to verify the susceptibility of the Murino Swiss model to external hair cell lesions caused by the use of aminoglycoside amiccin.
Method: Experimental, prospective and intervention research, approved by CEUA/UnB no. (63/2018). The animals were divided into two groups: control group (G1) and Ototoxic Amicacine (G2). G1 received sodium chloride (serum) solution 10mg/kg/day and G2 received amicacin 400mg/kg/day. The solutions were offered daily intraperitoneally for 14 consecutive days. Otoacoustic emissions were performed by distortion product at frequencies from 6 to 12kHz in T0 and T14 and histological study of the ymimpnanic leaflets were performed. The analyses were carried out using the Prism®5 program. Differences with p<0.05 were considered significant.
Results: The use of amicacin in a dose of 400mg/kg/day for 14 consecutive days did not cause damage to external snare cells and cochlear structures in the SWISS model.
Conclusion: Swiss mice have resistance to ototoxicity of amicacine under treatment at the dosage of 400mg/kg/day for 14 days intraperitoneally.
Keywords: Hearing loss; Choclea; Ototoxicity; Inner ear; Audiology; Amicacine.