Special issue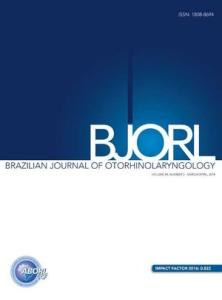 This article is part of special issue:
Vol. 88. Issue S2
More info
Full Text
Objective: To verify the presence of tomographic alterations in the paranasais sinus of patients diagnosed with Covid-19 and to evaluate the presence of an association between olfactory symptoms and the involvement of these sinus.
Methods: This is an observational cross-sectional study that analyzed computed tomography of the nose and paranasal sinus (SSCT) of patients with Covid-19 regarding the presence of mucous thickening in the paranasal sinus. Patients who underwent RT-PCR examination for detection of Covid-19 (SARS-CoV-2) and TCSPN infection from March 2020 to March 2021 were included. Patients with a history of previous nasosinusal surgery, recent facial trauma, age below 18 years or with incomplete information in medical records were excluded.
Results: A total of 65 individuals were included, of whom 28 were diagnosed with Covid-19. In tomographic analysis, an association was observed between Covid-19 infection and mucous thickening of the bilateral maxillary sinus (p=0.038) and mucous thickening of the bilateral ethmoidal sinus (p=0.005). No significant association was found between mucous thickening of the sphenoid and frontal sinus with virus infection. The complaint of olfactory dysfunction was reported by 20% of the patients, with no association with tomographic alterations or Covid-19 infection.
Conclusion: Covid-19 virus infection possibly causes an injury to the mucosa of ethmoidal cells due to the inflammatory process resulting from viral infection. The lesion of the mucosa of the ethmoidal sinuses may cause alteration in the drainage physiology of the maxillary sinuses due to blockade of the middle meatal tract – site of drainage of the maxillary sinus – and lead to edema of the mucosa of this sinus. This change in the mucosa of the ethmoidal sinus may also be the cause of olfactory disorders presented by patients, as well as may cause lesions in the olfactory nerve.
Keywords: Covid-19; SARS-CoV-2; Anosmia; Tomography; Paranasal sinuses.